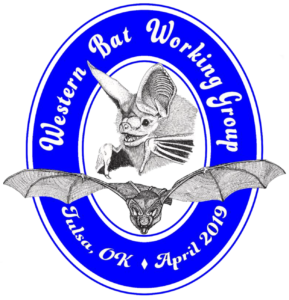 Mark your calendars and join us for the Western Bat Working Group Workshop & Meeting, April 22 – 25, 2019.
We are excited to bring the WBWG Conference to beautiful Tulsa, Oklahoma – the city ranked #1 by 11 climate scientists when asked where in the U.S. they'd live to avoid future natural disasters at the hands of global climate change (Business Insider, Oct. 2018).
The meeting will provide a forum for biologists, land managers, researchers, students, consultants and advocates from across the western states to present current and ongoing studies and to address issues of critical bat conservation concern.
Meet & reconnect with fellow researchers, students, & old friends!
Share your chiropterological knowledge, research & news!
*Current students especially are encouraged to attend!*
Here's what you need to know!
Who

Bat researchers, students, citizen scientists

What

Western Bat Working Group Biennial Conference and Workshop

When

Monday, April 22 – Thursday, April 25, 2019

Where

Hyatt Regency Tulsa; 100 E 2nd St., Tulsa, Oklahoma

Reservations

$94/night/room, if made by 28 February 2019

Booking

By Phone | Toll free, 888.421.1442; mention you are with Western Bat Working Group; request the reduced rate

Online | Visit 'Hyatt Regency WBWG Conference'
Non student

Option 1 | $195, includes 1 year of WBWG membership fees
Option 2 | $215, includes 2 years of WBWG membership fees

Student

Student | $125, includes 1 year of WBWG membership fees
Student, presenter | $100 *must have abstract/presentation accepted

Scholarships

Registration
You can look forward to a meeting that will highlight the current state of bat conservation, management, and natural history in western North America. Status of WNS in the West will be a prime focus of several presentations and break-out sessions on acoustics and exclusion will be featured. The meetings will offer a great opportunity to get updates on NABat, state-wide surveys, and state of the art study technologies.
If these or related topics are relevant to your work, and you'd like to share your findings with us, please follow our 'Abstract Guidelines' and submit your completed abstracts to Bill Haas.
The abstract submittal deadline is 5pm on 15 February 2019.
Come hang with us in Tulsa! Enjoy an evening flight (or two) in Tulsa's Midtown.
Still up in the air about attending? You know you've got to cave on this one!*
Monday, April 22, 2019

Evening Welcome Social
Tulsa Foundation for Architecture Tour, 90 min., beginning at 4 pm

Tuesday, April 23, 2019

Plenary Session
Poster Session

Wednesday, April 24, 2019

Plenary Session
Workshop
Evening Banquet

Thursday, April 25, 2019
For questions, please contact Katie Gillies, President, Western Bat Working Group.
Spotted Bat Sponsors - $1000
Townsend's Big-Eared Bat Sponsors - $500
Pallid Bat Sponsors - $250